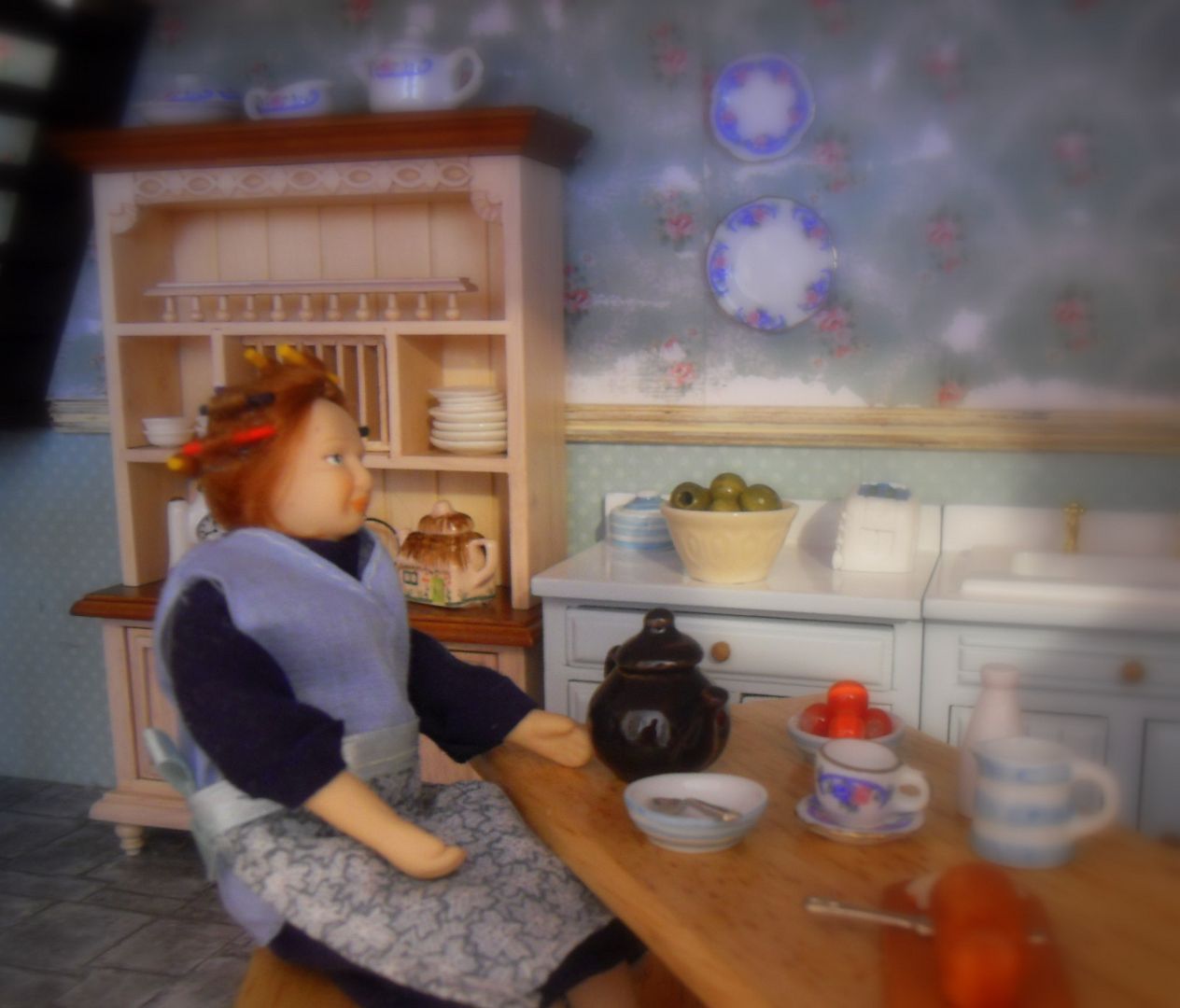 Norah spends a quiet life in her little cottage on the edge of the green wood . . . nestled somewhere in between here and there . . . and now and then . . .
She has always lived here, although, to be sure at one time, the little house was quite filled to the rafters, with mam and pa, and all of seven brothers . . . her being the only girl. In those days, the house was always filled with noise and bustle and plenty of comings and goings. It was crowded as would be any small house such as this . . . but it was filled with love and so it didn't matter overmuch . . .
Pa worked in the local mines, and . . . one by one, as they came of age . . . her brother's also took up work in the mines . . . Mam spent her days in the little cottage, keeping the home fires burning, and everything swept and tidy. The laundry alone could take up hours and hours of a week that was filled to overbrimming with one thing or t'other . . .
Norah took up employment in the nearby village . . . cleaning and cooking, and watching the children for the local Vicar's wife, whose various duties around the parish took up much of her time . . . so much so, that she had no time for housewifery skills, and so Norah was very much needed by her busy little family . . .
As her brothers grew up, they fell in love and married sweet village girls . . . They moved away to more hospitable climes and opportunities . . . leaving Norah on her own with Mam and Pa. Norah never minded. There was no other place on earth she would rather be than in this gentle home, filled with love and happy memories.
Pa grew old and retired from the mines, but soon fell ill . . . and with her mam no longer being able to cope with it all on her own . . . Norah, ever the dutiful daughter, and never having been given any such romantic opportunities . . . stayed at home, having long since given up the ideas of hearts and flowers . . . and finding a love of her own. She was content to stay where she was needed, and for as long as she was needed . . .
In time she came to be alone in the little brick house, her Mam and Pa having gone to their rest . . .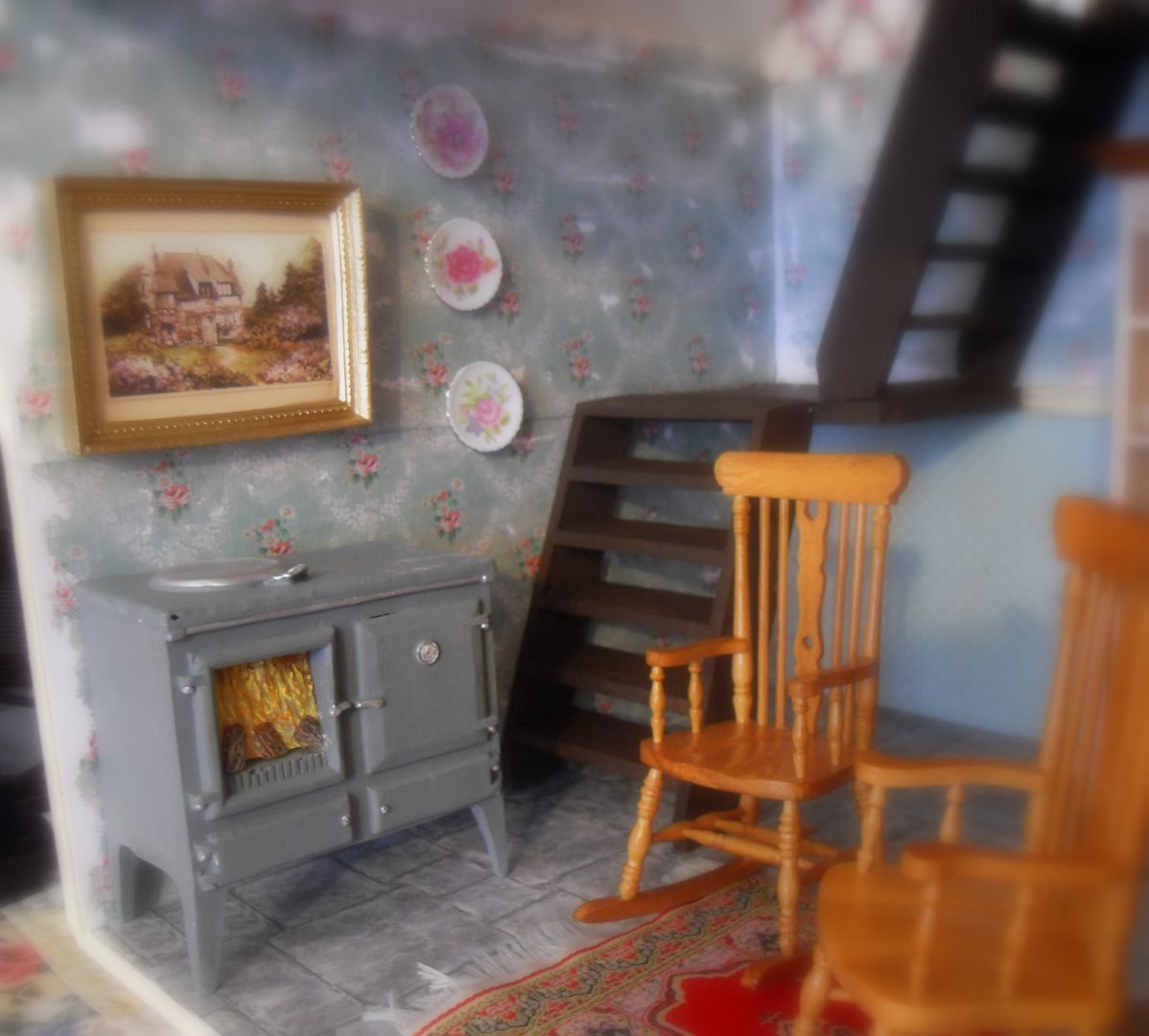 Now the small house is empty of voices and noise . . . except for her own steady footfall upon the old stone floor. It suits her just as well . . . she has memories enough to keep her warm on a cold winter's eve . . . and plenty of work to fill her days . She has perfected the art of enjoying her own company, and, whilst she would never turn away a knock on the door, she is content to warm her toes in front of the fire of an evening . . . with nothing more than a good book or some knitting to keep her company . . . or perhaps a tune or two on the wireless, or even a story to listen to . . . The Archer's having long been her favourite for many years!
She's never felt the need or room for a television, but with the Royal Wedding coming up in the spring, she just might succumb to the temptation . . . She missed the last one and is quite looking forward to this one . . . they seem such a lovely young couple and she wishes them well.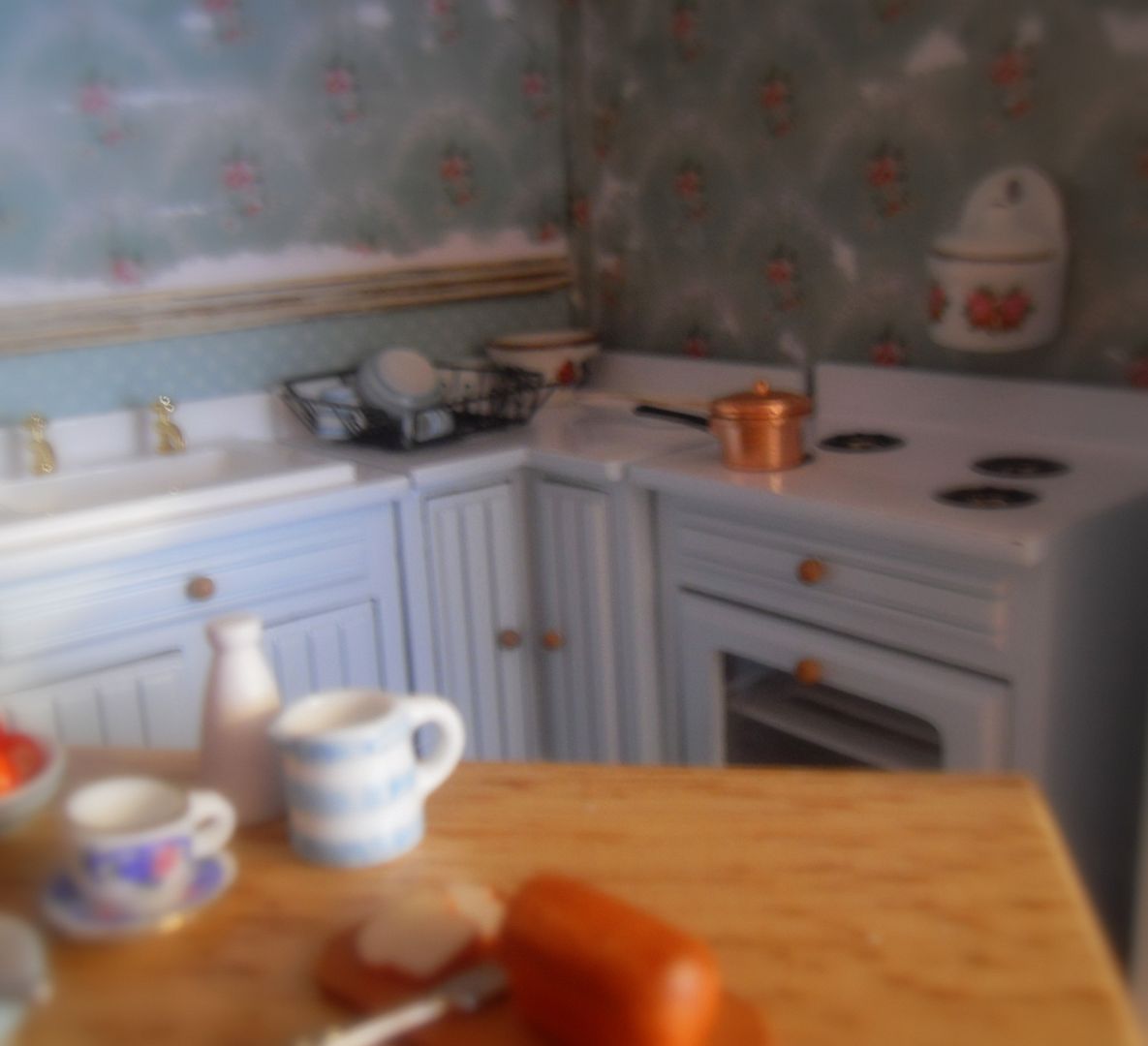 Things have been modernized somewhat since her parent's day . . . there's an electric stove now, to do all her cooking on, and an electric ice box, which keeps her goodies ever so fresh and tempting . . . although she still uses her Mam's china salt box. A small pinch in her oats in the morning, as the Scottish would do . . . and of course it has it's many other uses . . . not the least of which is to look pretty on the faded wall above the stove . . . where it comes in very handy from time to time.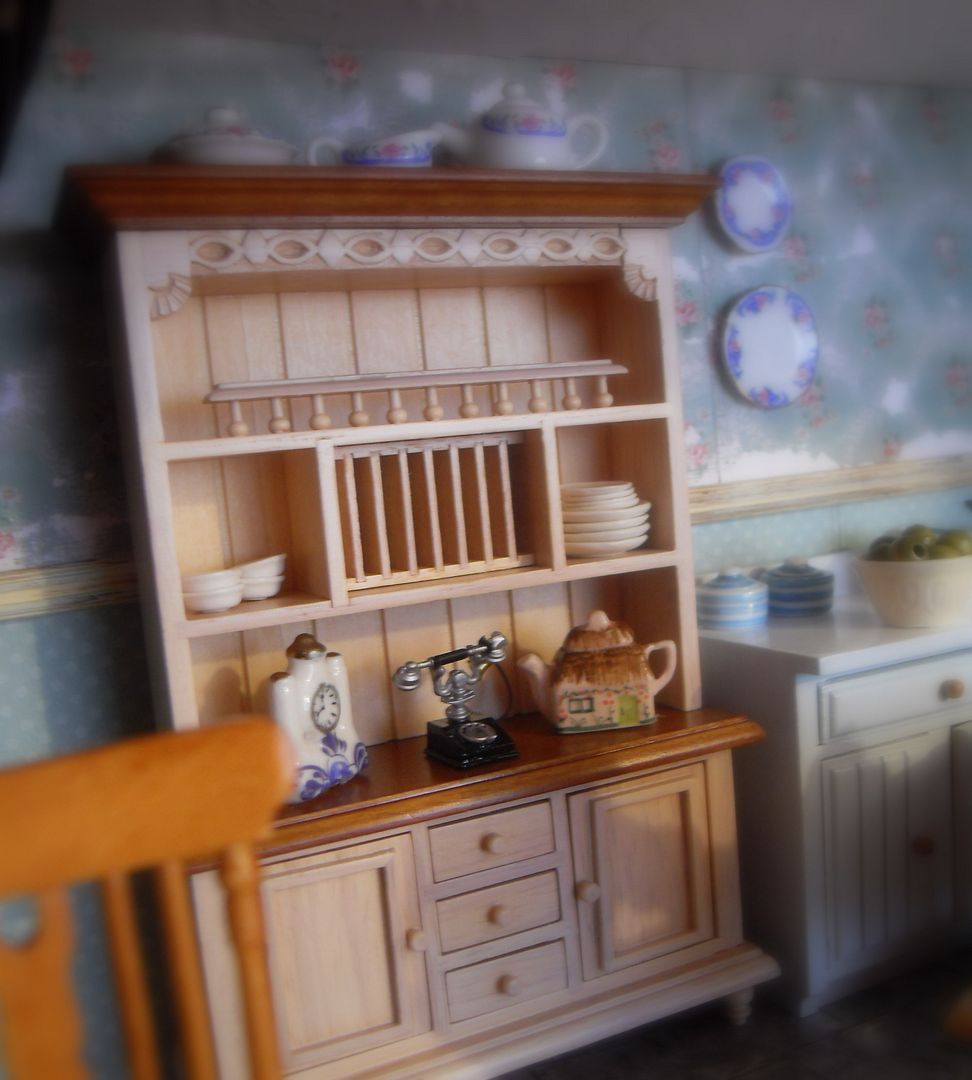 The old Welsh Dresser, which was the pride and joy of her Mam, still stands as a sentinel against the backwall in the old kitchen . . . all her treasures and trinkets on display . . . some new, some old . . . some neither one nor t'other . . .
It makes a good place to set her telephone . . . she remembers the old days of party lines . . . and one ring or two . . . how exciting it would be to get an actual call, the further away the better. The old excitement still rises in her chest when it rings . . . could it be one of her faraway brothers, or perhaps a sister in law, or niece or nephew (she loves them all so) . . . with news from afar and a tale to tell???
Or even a cherished neighbour with some news from the village and all that's going on . . .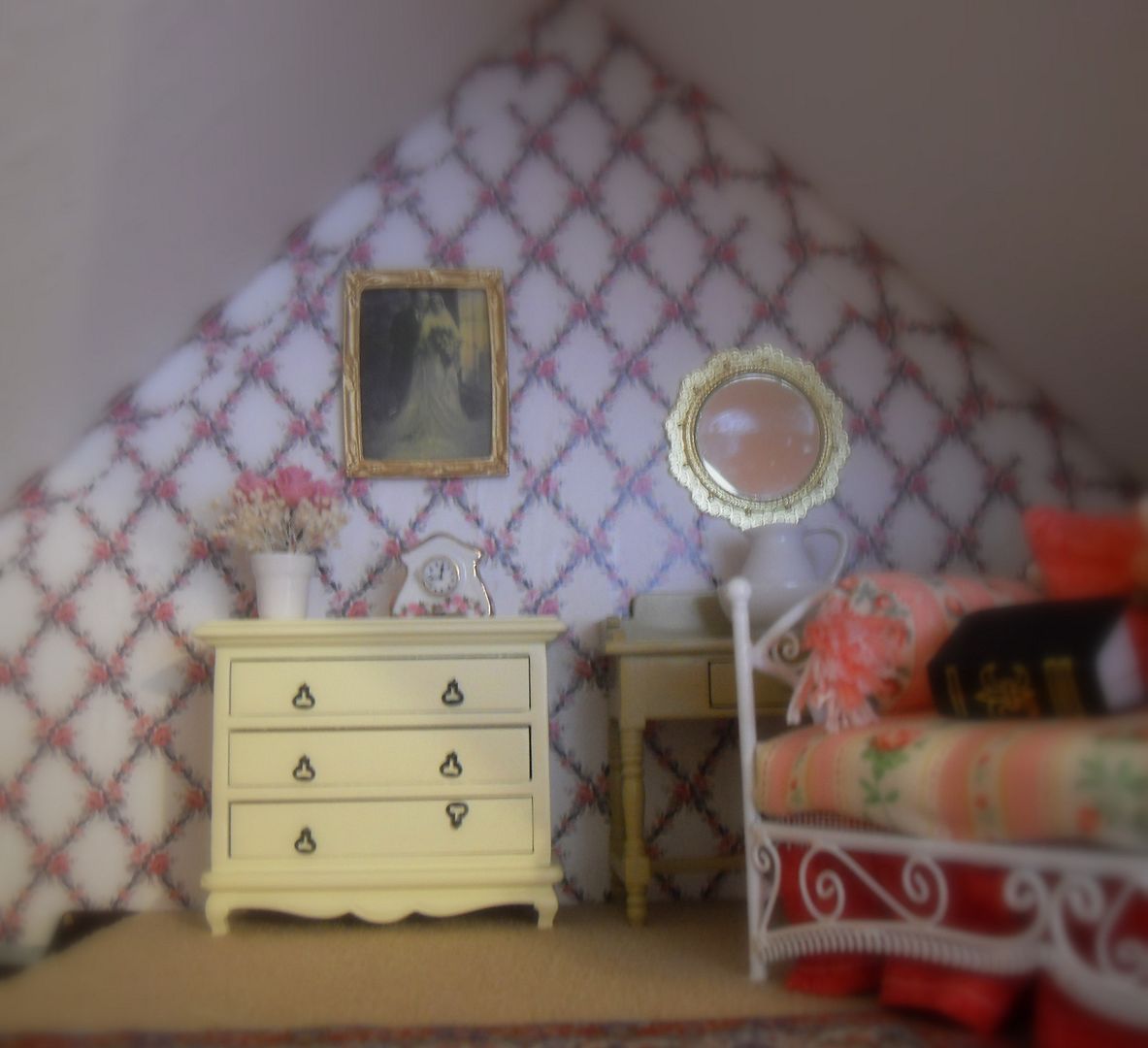 She is a girl of simple tastes . . . not needing much to keep her happy. A simple chest of drawers holds all the clothing she might need, and a wash stand, a china basin and jug for keeping herself clean. Perhaps one day she will invest in a modern bath . . . but for now this does the job. Her parent's wedding picture takes pride of place on the bedroom wall . . . her Mam was a beautiful bride and her Pa . . . so handsome on the day. She has her Mam's eyes and her Pa's smile.
Her one luxury is her bed . . . it is here that she has allowed her fancy to fly free, with it's flounces and frills and pretty pink roses . . .
In the old days there was not room enough to indulge in such frippery, but now . . . since there is only she . . . she has thought to herself, why not . . .
Why not indeed! A pretty white iron day bed with a matching rocker do so easily bring a smile to her serene face and a song into her sweet heart . . .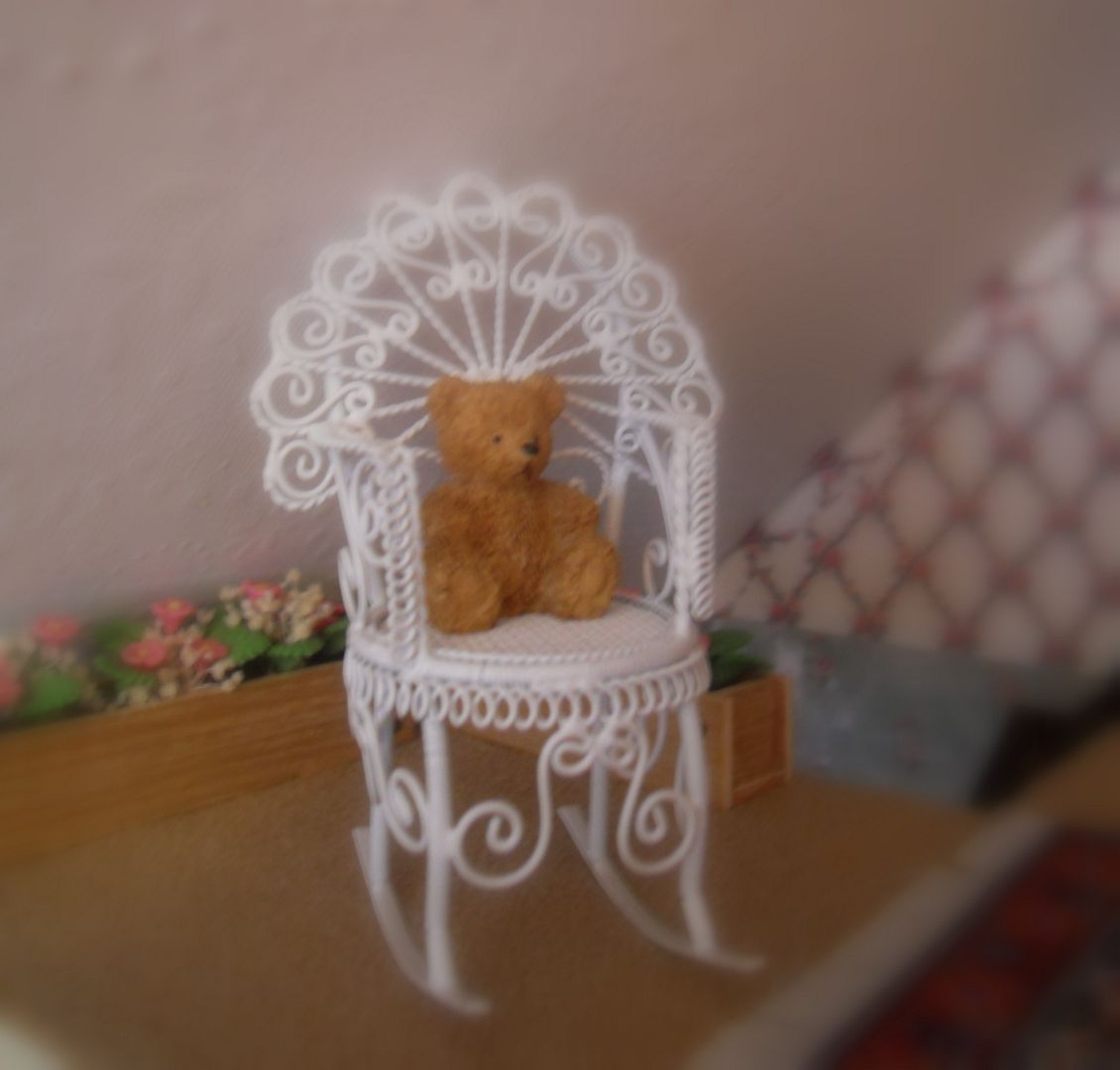 It is a life of comfort and peace, free of care, and filled with simple blessings and indulgences. It is a happy life and she could wish for no t'other, but the joy that each day brings . . .
Memory builds a little pathway
that goes winding through my heart.
It's a lovely, quiet, gentle trail
from other things apart.
I only meet when travelling there
the folks I like the best,
For this road I call "remembrance"
is hidden from the rest,
But I hope I'll always find you
in my memory rendezvous,
For I keep this little secret place
to meet with folks like you.
~Helen Steiner Rice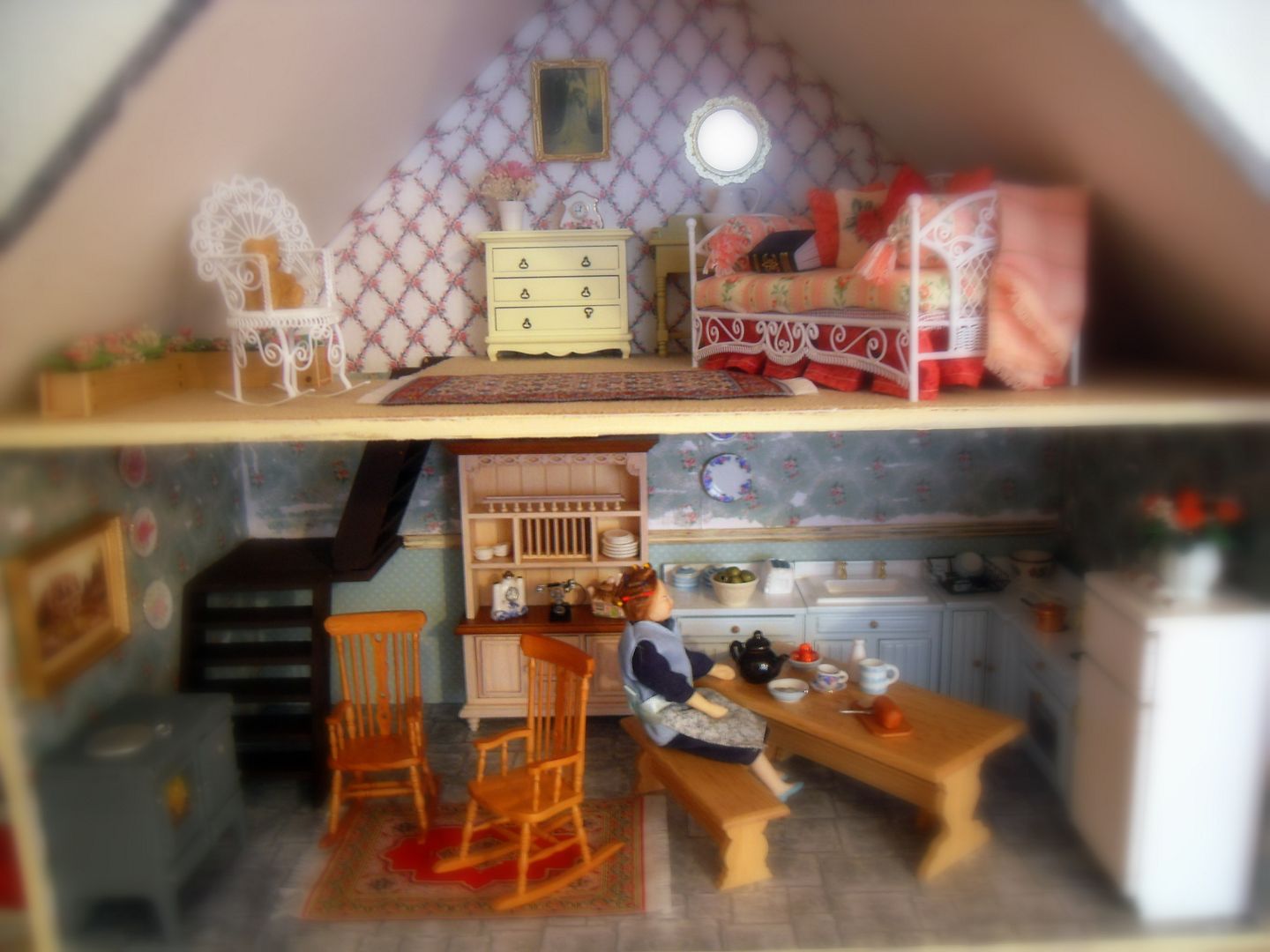 God keep you til next time.