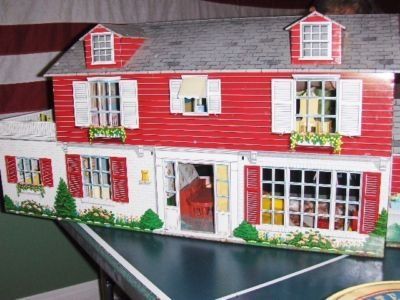 When I was five years old, I had a doll's house very similar to the one you see above. It was very simple, Colonial style, and just made of tin . . . but I thought it was lovely. All the scenery was printed on the outside of it, in bright colours . . . flower boxes, shutters, bushes, grass . . .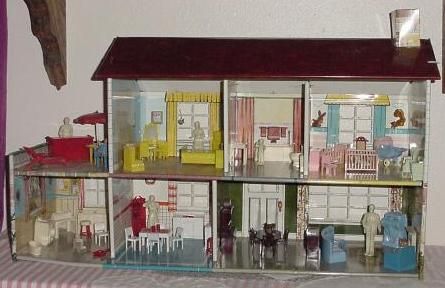 The inside was all painted too . . . gaily painted curtains and floorings, carpets, wall paper . . . all in glorious colour, 1960's colour. My little five year old eyes thought it quite beautiful.
It came with hard plastic furniture. All moulded and of similar colour. There was not a lot of differentiation. It was all pink and blue . . . but you know how children's imaginations work. It was all lovely to me.
I didn't have it for very long . . . my brother decided to park his huge firetruck in one of the rooms one day and pushed out the whole front wall . . . and then he decided to use it as a slide and it got all crushed down on one side . . . that effectively ended my doll's house and it was no more . . . sigh . . .
My best friend, Susan, had a big wooden doll house. I think it had been her mother's back when she was a girl. The back wall was a big door that opened up to show us the inside rooms and it was filled with beautiful handmade furniture. I used to love to go over to Susan's house and play with it . . . and dream.
I am 55 years old now, half a century older than that little girl, but the dream still stands. I have always loved and wanted a real doll house that I can call my own. I am all about making dreams come true in this later stage of my life and so with that dream in mind, I recently purchased a wooden doll's house for me to build and fill.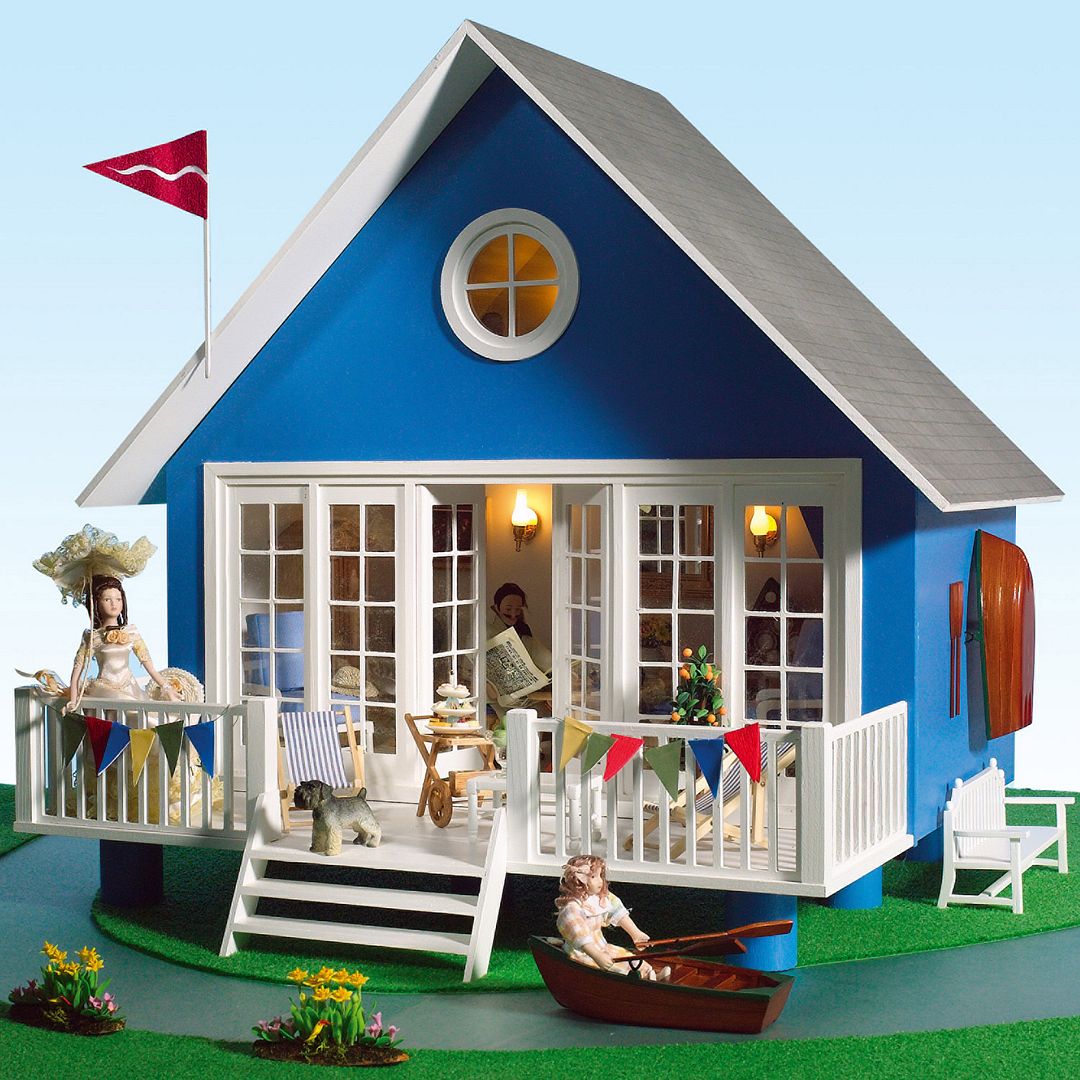 Its not all that big. I couldn't afford to buy a large one. It's only two rooms and meant to be a retreat cottage type of house, but I did fall in love with it's veranda and windowed front. It's all in a flat pack box now, just waiting for me to work my magic on it.
I hope you'll come along with me on the journey as I realize my childhood dream. I can hardly wait to get started!!